Synopsis of Lines 60 - 129 of
Sir Gawain and The Green Knight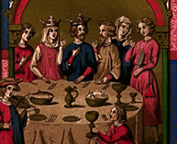 In this section of the poem, the New Year has just begun. King Arthur and his knights of the Round Table have attended mass, and they are just beginning a spectacular celebration at Camelot. We are told the group is participating in traditional gift-giving and feasting. The dais where Lady Guenevere and Sir Gawain are seated is described as "well-decked and duly arrayed" with silk and expensive tapestries. (Norton, 204) It seems as though no expense has been spared. The fact that Gawain is seated next to the queen tells us of his importance and high status within the group. We learn that he is a nephew of King Arthur and that Agravain, another nephew of the king, is also seated there.
King Arthur does not join the others when they sit down to eat. He is boyish, restless, and full of energy. He has vowed that he will not sit down to eat at a holiday celebration until he hears a tale "of some fair feat" or " some marvel of might." (Norton, 204) In other words, Arthur behaves like a young child who must be entertained before he will sit down to eat.
The poet then tells us about the first course being brought in with the "clamor of trumpets that were bravely bedecked with bannerets bright, with noise of new drums and the noble pipes." (Norton, 204-205) Other sumptuous dishes follow. There is so much food that there is scarcely room to set it all down on the tables. Food, wine and beer are plentiful, and the mood is light and festive.
In this passage, the knights of the Round Table are presented "in their first age." (Norton, 203) The poet easily brings the scene of this traditional celebration to life for the reader with his detailed descriptions of the festivities. The characters are full of mirth and generally enjoying life. Their celebration symbolizes a rather carefree time in their youth, before they are presented with the pressures we all face as we become older and the tests of character that unfold as we delve into the poem.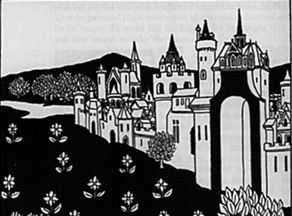 Camelot
---
This synopsis was created by Kim Neininger
---
Bibliography:

To see sources used to create this page, click here.
---