You can click on

to hear it.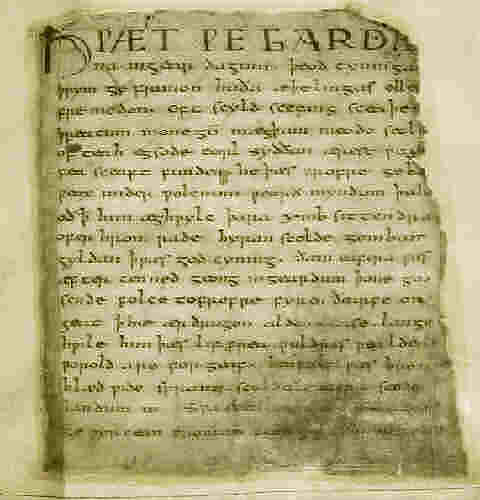 Beowulf is one of the oldest and great poems written in old English. It was composed about twelve hundred years ago, in the first half of the eighth century. The author is unknown he may have been a native of what was then Mercia, the Midlands of England today. although the late tenth-century manuscript, which alone preserves the poem, originated in the south in the kingdom of the West Saxons" (Abrams 21). In 1731 the original manuscript was seriously damaged in the fire. As a result some lines were deteriorated and lost from the poem.Bibliography
Click Here to see the map of Boewulf's jorney.
Click Here to see more info on Beowulf.
For a translation of Beowulf CLICK HERE
The images below were discovered at Sutton Hoo burial:
To learn more about the images just click on the image.
| | | |
| --- | --- | --- |
| Iron helmet | Shoulder-clasps | Sceptre |
| Decoration on the bowl | The lid of a purse | Gold belt buckle |
| Wooden bottle | Bowl | a cup or a goblet |
| Copper bowl | Horns | Bowl |

Abrams, M.H. "Beowulf." The Norton Anthology: English Literature. 6th ed. New York: W W Norton & Company, 1993. 21.
http://ifl.rmplc.co.uk/bw/link1.htm