Geoffrey Chaucer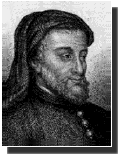 Geoffrey Chaucer. b. c.1340, d. Oct. 25, 1400, is recognized as one of England's greatest poets. Modern study of the setting of his art has made clear that in his work there is a range of subtlety surpassing that of all other medieval writers, with the exception of Dante. He is best remembered for The Canterbury Tales.
The poet's father, John Chaucer, was a prosperous London wine merchant who had some influence in the court of Edward III. By 1357--the earliest record of the younger Chaucer's life--he had been placed as a page in the household of Elizabeth de Burgh, countess of Ulster and wife of Edward III's third son, Lionel. During military service in France in 1359, Chaucer was captured near Rheims but was ransomed by the Crown. In the early 1360s he is believed to have studied at the Inns of Chancery and the Inns of Court, and possibly at Oxford, as further preparation for an administrative career at court. In 1366 he married Philippa de Roet, an aristocratic lady whose sister Katherine was later the mistress and, in 1396, the third wife of John of Gaunt, King Edward's second son. By 1367 Chaucer was a yeoman, or valet (vallectus), in Edward III's household; in 1368 he is mentioned as the king's armiger (esquire). For the rest of his life Chaucer served the royal court in some capacity--which included giving readings of his poetry--traveled widely on the continent, and maintained a close relationship with John of Gaunt, as well as other influential people at court.
The life records that have been assembled show that Chaucer was an exceptionally able and trusted civil servant, a courtier entrusted by three kings with important administrative and diplomatic tasks. His ambassadorial missions frequently took him to France--once, in 1377, to negotiate a marriage between Princess Marie of France and Prince Richard, who was in that year to become Richard II--and at least twice to Italy (1372-73 and 1378). On June 8, 1374, Edward III appointed Chaucer controller of the customs and subsidies on wool, skins, and hides for the port of London, and in 1382 Richard II made him controller of petty customs. Until 1386 he held these posts, both of which were important for the king's revenues. He served in 1385 as justice of peace for Kent, and in 1386 he was elected representative to Parliament from Kent. He was appointed clerk of the king's works in 1389 and continued throughout his life to receive, in addition to salary, gifts and annuities for his service to the Crown; the last of these came from Henry IV, immediately following Henry's coronation (1399), and from Henry's father, John of Gaunt. Chaucer's tomb in Westminster Abbey was the first in what is now known as Poets' Corner.
In view of this busy life, Chaucer's artistic productivity is remarkable, as is the literary knowledge that pervades his work--an absorption of classical and vernacular literature in at least the three languages of diplomacy: Latin, French, and Italian. Dating of his individual works is always hypothetical, but his earliest models were probably French, the culture most familiar to the English court. A surviving copy of a partial translation of Le Roman de la rose may be his; Chaucer claims to have translated that most influential poem, and echoes of it abound in much that he wrote. In late 1369 or early 1370 he wrote The Book of the Duchess, an elegy cast as a traditional French dream-vision, for Blanche, duchess of Lancaster and John of Gaunt's first wife, who died in 1368. These poems and The House of Fame are written in eight-syllable lines rhymed in couplets, a form characteristic of French poetry. The House of Fame contains some overt parody of Dante's Divine Comedy and is usually dated after Chaucer's Italian mission in 1372, when a familiarity with the Italian language enabled him to read the works of Boccaccio, Petrarch, and DANTE.
Chaucer translated (c.1380) a number of meditative Latin works whose terms had been, and would increasingly become, important in his own artistic terminology: Boethius's Consolation of Philosophy; Pope Innocent III's On the Misery of the Human Condition, the translation of which is lost but survives in part in the Canterbury Tales in the "Man of Law's Tale"; and a Life of Saint Cecilia from the Golden Legend. He may also have translated a condensed French version of part of the Book of Consolation and Counsel by Albertanus of Brescia, which appears as the "Tale of Melibeus" in The Canterbury Tales. At about the same time, Chaucer also wrote or began to write a satirical dream-vision The Parliament of Fowls (c.1382), the Legend of Good Women, an unfinished series of nine so-called lives of Cupid's saints like Cleopatra and Dido, and Troilus and Criseyde. Troilus and Criseyde, a penetrating and humane "tragedy" in five books and more than 8,200 lines in rhyme royal stanzas, is often called the finest of all medieval romances. In this poem Chaucer transformed Boccaccio's stylized Filostrato by deeply analyzing common human motives within a Boethian and ultimately Christian overview. Only Shakespeare, more than two centuries later, would match Chaucer's expression of the "misery of the human condition," in which noble but self-oriented motives run tragically counter to the providential law of God. Between 1386 and his death, Chaucer sought to complete The Canterbury Tales, an undertaking which, in its final form, would have presented 30 tellers and tales within a unified dramatic and philosophical design. Twenty-four tales, a few of them incomplete, were written. They range from the lofty to the scurrilous; however, Chaucer made consummate use of all the intellectual and poetic possibilities of his day and expanded them. He subtly adapted language and perspectives to his individual tellers and thus established a model for Shakespeare and the Elizabethan dramatists. Chaucer's generous good humor, wit, and ability to tell a good story well have always been recognized. Today he is generally recognized, in addition, as a highly sophisticated intellectual writer who incorporated into his poetry the major philosophical and artistic concerns of his age. He did so with an apparent ease achieved by no other English poet before Shakespeare. The humorous storyteller is now seen, as he probably was by his courtly audiences, as an ethical, and even a religious, poet.


RETURN TO THE CANTERBURY TALES ROOM