Early Shinto Wakizashi
This is a great early shinto wakizashi, or short sword. It was likely made in the 1600's.
The blade is shinogi-zukri and measures 15" in length. There is a good 2 piece copper habaki.
The blade is definately worth sending to a polisher. The hamon is visible all the way to the tip. The hamon changes from gentle gunome at the habaki to a wide notare in the center of the blade, and then changes to a wildly erupting chogi toward the tip, ending at the tip with a (kaen) or flame temper as seen in Yumoto pg 55.
The ji-hada is mokume and has a few areas of sunagashi. There is a lot of ji-nie also visable just above the hamon. The right side of the blade is flawless with very light pitting in small areas. The left side has a scratch just below the shinogi line about 3/4" long. There is another lighter scratch at the center of the blade in the hamon, about 2" long. This scratch is intermitant and light.
The tsuba is possibly older than the blade. It is a great pierced iron tsuba, dipicting a bird in opposite corners looking at eachother. This thing is old! The tsuba does not fit tightly against the blade.
The tang is ubu, and has two mekugi-ana. One is punched, the other is drilled. The tang measures 4".
There is a kozuka (utility knife) in the saya! Most don't have them anymore. The kozuka appears to be heavily tarnished silver, with a new replacement blade.
The saya (scabbard) is dark brown laquor with very little loss. The tsuka (handle) is dark brown ito, and the same' is in good to very good shape. The menuki are high quality copper in shakudo with gold accents. The menuki depict a wasp or hornet on a flower. The fuchi and kashira are a match. They are of copper, and depict a deer laying down amongst trees.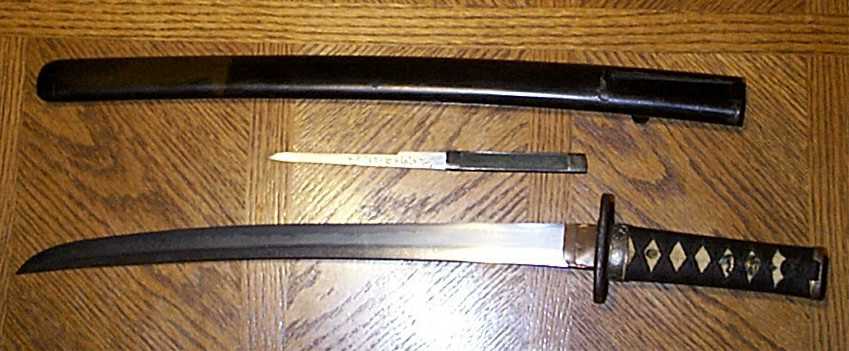 Showing the intricate temper line (Hamon).
It is stored in a nice, silk, wakizashi bag made from a beautiful, old, Japanese Maru obi. Measures 6"x36" with base color of off white. Main design is of cranes (Japanese symbol of longevity), fans, Japanese house, plum blossoms, and many family mon (crests). Colors include red, orange, green, black, and gold. Full black lining. The bag is from Japanese Sword Bags.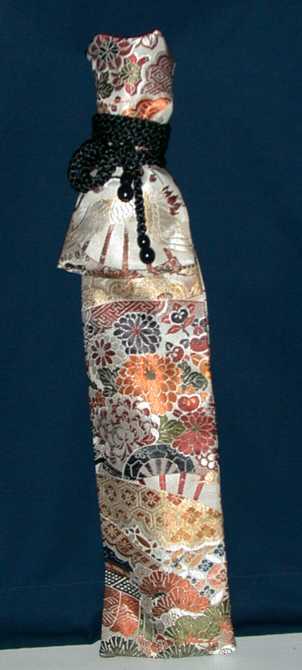 Last Updated: October 5, 2000