CS615 – Software Engineering I
Lecture 1
The Software Product
What is Software?
Software is a set of items or objects that form a "configuration" that includes
programs
documents
data ...
Who Creates Software?
Why is Software Important?
Affects nearly every aspect of life.
How is Software Built?
By applying a structured process.
What are the Work Products?
Dual Role of Software
Product
Process that delivers products
Questions Asked of Software Engineers
Why does it take so long to finish software?
Why are development costs so high?
Why can't we find all the bugs before delivery?
Why do we continue to have difficulties measuring progress in the software development process?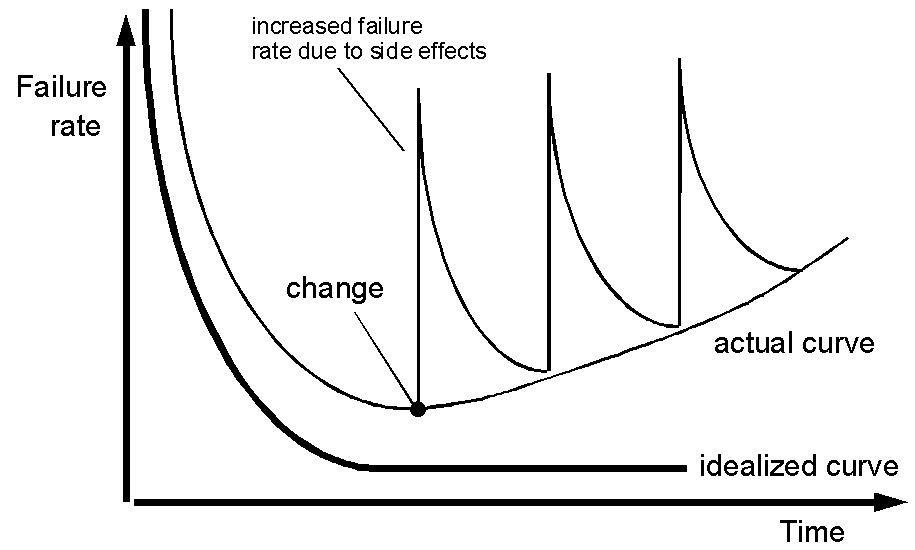 Software Characteristics
software is engineered
software doesn't wear out
software is complex
software is like an 'aging factory'
Software Custom Built
Hardware based on standards.
Software standard components exist.
The Cost of Change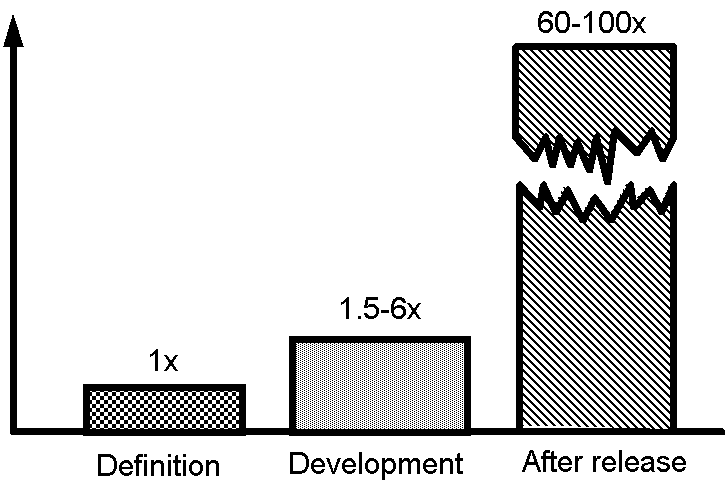 Software Applications
system software
real-time software
business software
engineering/scientific software
embedded software
PC software
AI software
WebApps (Web applications)
System Software
Service Programs – compilers, editors, OS's, telecommunications
Heavy interaction with hardware.
Heavy usage by multiple users.
Concurrent operation.
Complex data structures.
Multiple external interfaces.
Real-time Programs
Monitors/analyzes/controls real-world events
Data gathering from external environments.
Transformation components.
Control/output components.
Monitoring components.
Business Software
Discrete systems (e.g. payroll, inventory, …)
Management and decision making.
Interactive computing.
Engineering and Scientific Software
Number crunching.
CAD.
Simulation / Visualization
Virtual Reality
Embedded Software
Resides in ROM.
System Controllers.
PC Software
Productivity.
Graphics / multimedia.
Etc.
Web-based Software
Browser-based (CGI, HTML, Perl, Java, etc.)
AI Software
Expert Systems.
Pattern Recognition.
Games.
Software Engineering Challenges
How do we ensure the quality of the software we produce?
How do we meet growing demand and meet budget control?
How do we upgrade an aging software plant?
How do we avoid disastrous time delays?
How do we successfully institute new software technologies?
The Software Process
What is the software process?
A series of predictable steps.
Why is the software process important?
It provides stability, control, and organization.
What are the steps in the software process?
Depends on software to be developed.
What are the software work products?
Programs, documents, and data.
How do I ensure that the process is done correctly?
Quality, timeliness, long-term viability of products.

Software Engineering Definition:
The establishment and use of sound engineering principles in order to economically obtain software that is reliable and works efficiently on real machines.
(1)The application of a systematic, disciplined, quantifiable approach to the development, operation, and maintenance of software; that is, the application of engineering to software. The study of approaches, as in (1).
Process, Methods and Tools.
SE is a layered technology.

SE foundation – Process Layer
Process defines framework for set of Key Process Areas (KPAs) that are established for delivery of SE technology.
KPAs:

foundation for management control of products
Set context in which:

Technical methods are applied.
Work products produced.
Milestones established.
Quality assured.
Change managed.
Generic View of SE
Analysis
Design
Construction
Verification
Management
Questions to be answered:
What is the problem to be solved?
What characteristics of entity are used to solve problem?
How will entity and solution be realized?
What approaches will be used to uncover errors during design and construction?
How will entity be supported over long term?
SE: Three Generic Phases
Definition Phase – What.
What information is processed.
What functions and performance are desired.
What system behavior is expected.
What interfaces are to be established.
What design constraints exists.
What validation criteria are required.
Development Phase – How
How data are to be structured.
How functions are to be implemented.
How procedural details are to be implemented.
How interfaces are characterized.
How design translates into programming language.
How testing will be performed.
Support Phase – Change
Error correction.
Adaptation.
Enhancements.
Prevention.
Umbrella Activities.
Software project management
Formal technical reviews
Software quality assurance
Software configuration management
Document preparation and production
Reusability management
Measurement
Risk management
Software Process.
Common Process Framework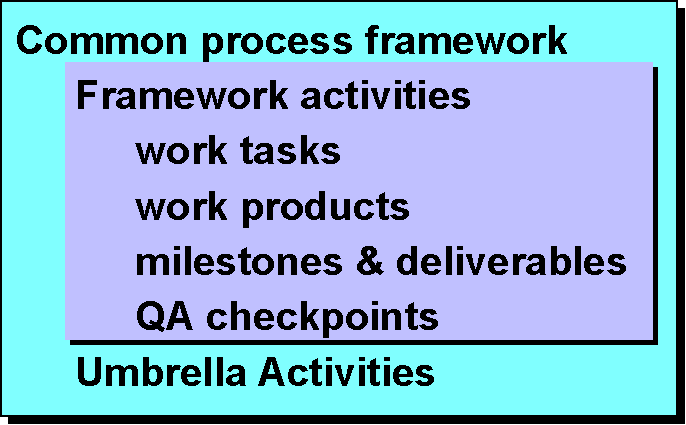 SEI Capability Maturity Model (CMM)
Key activities required at different levels of process maturity.
Measure of SE practice effectiveness.
Five process maturity levels (higher levels subsume lower):
Level 1: Initial – Ad hoc, few processes defined, success depends on individual effort.
Level 2: Repeatable – Basic project management processes established to track cost, schedule and functionality.
Level 3: Defined – Software process for management and engineering activities are documented, standardized, and integrated into an organization-wide software process.
Level 4: Managed – Detailed measures of software process and product quality are collected.
Level 5: Optimizing – Continuous process improvement through quantitative feedback from testing.
Key process areas (KPA) connected with each maturity level (SEI).
KPAs define SE functions (e.g. plans, reviews) that must be present to satisfy good practice at a particular level.
KPA characteristics:

Goals
Commitments
Abilities
Activities
Methods of monitoring
Methods of verifying
Software Process Models.
General Problem Solving Process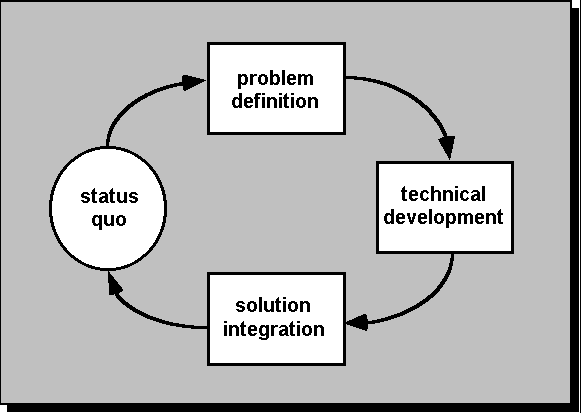 General Model Characteristic: Adaptable.

Framework activities will always be applied on every project ... BUT the tasks (and degree of rigor) for each activity will vary based on:

The type of project (an "entry point" to the model).
Characteristics of the project.
Common sense judgment; concurrence of the project team
Linear Sequential Model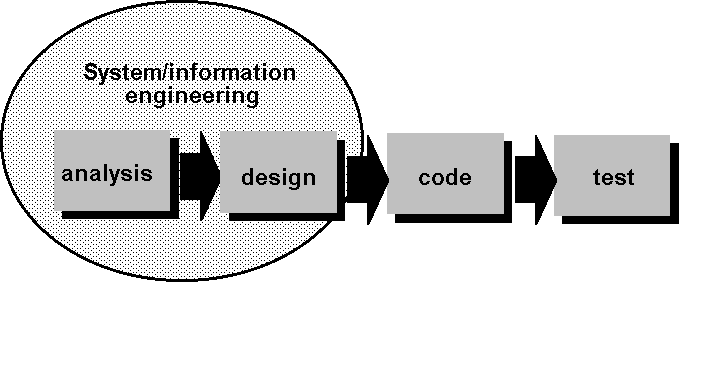 Oldest model – widely used.
Problems:

Real projects rarely follow sequential flow.
Often difficult to specify all requirements explicitly.
Long process.
Parallel development slowed.
Prototyping Model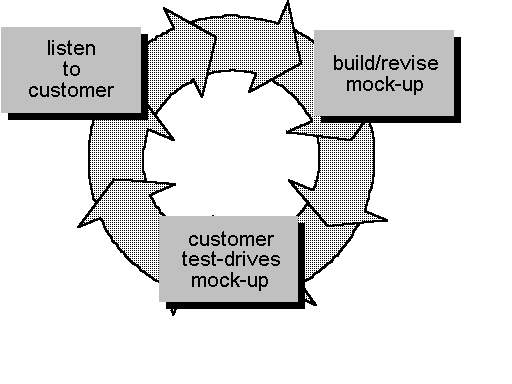 Problems:

First System: Not usually written very well.
Customer thinks it is working version.
Implementation compromises made to build prototype.
Usefulness:

Good communication tool.
Fleshes out system requirements.
RAD Model – Rapid Application Development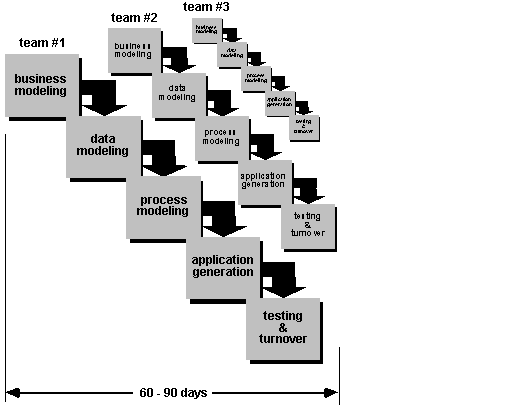 Characteristics:
Iterative model with short development time.
High-speed adaptation of linear model.
Focuses on building systems as collection of components.
Phases:

Business Modeling

Information flow modeled: who, what, where info comes and goes.
Data Modeling

Information transformed to data objects.
Process Modeling

Data objects transformed

Application Generation
Testing and turnover
Concerns:
Large projects require sufficient human resources.
Requires commitment of time by all.
Does not work with high-tech projects.

Incremental Model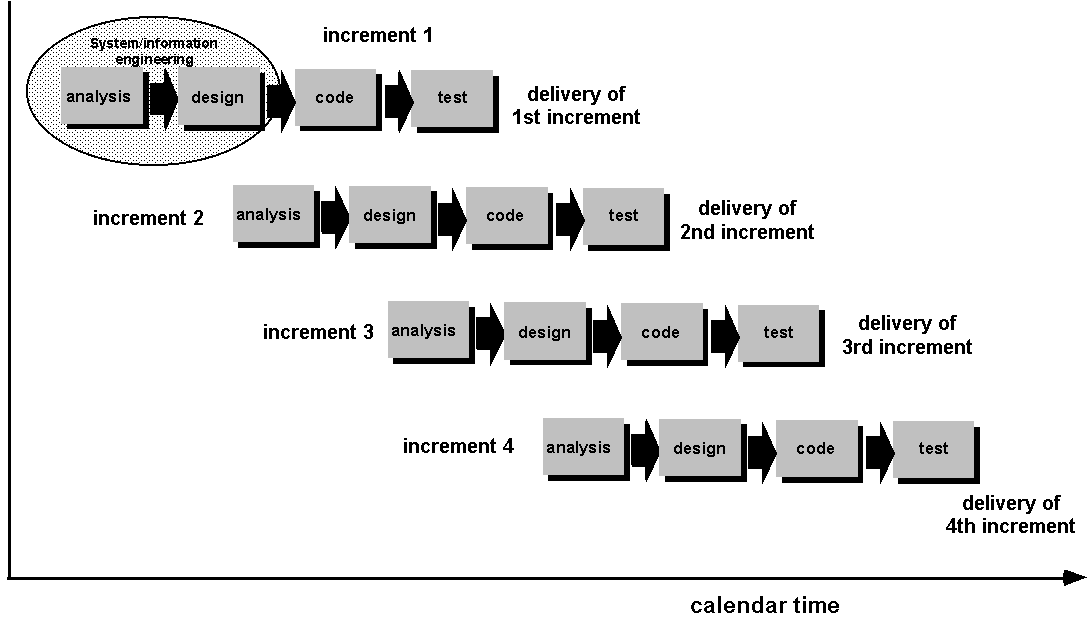 Evolutionary model
Modified linear model
Each sequence delivers an "increment" – 1st increment core product, 2nd enhanced, etc.
Intends to deliver functioning product
Spiral Model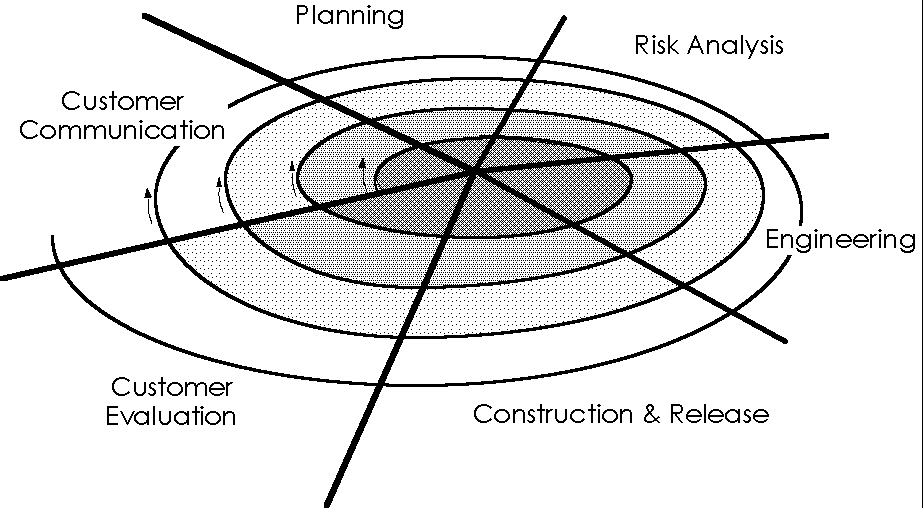 Combines concept of prototyping with linear model
Process:

Movement counterclockwise from center.

First circuit: produces product specifications.
Second circuit: prototype.
Third circuit: refined versions.

Each pass through each regions produces adjusted products.

Adapted to complete life cycle