CS615 – Software Engineering I
Lecture 7
Strategic Approach to Software Testing
Testing begins at the component level and works outward toward the integration of the entire computer-based system.

Different testing techniques are appropriate at different points in time.

The developer of the software conducts testing and may be assisted by independent test groups for large projects.

The role of the independent tester is to remove the conflict of interest inherent when the builder is testing his or her own product.

Testing and debugging are different activities.

Debugging must be accommodated in any testing strategy.

Make a distinction between:

verification - are we building the product right?

validation - are we building the right product?
Criteria for Completion of Testing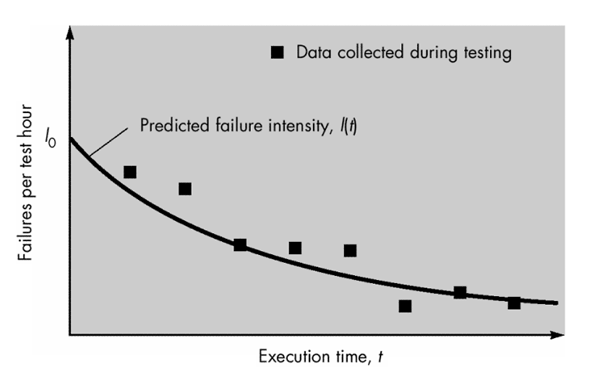 Version of the failure model, called a logarithmic Poisson execution-time model, takes the form
f(t) = (1/p) ln [ lopt + 1]
where
f(t) = cumulative number of failures that are expected to occur once the software has been tested for a certain amount of execution time, t,
lo = the initial software failure intensity (failures per time unit) at the beginning of testing,
p = the exponential reduction in failure intensity as errors are uncovered and repairs are made.
The instantaneous failure intensity,

l(t)

can be derived by taking the derivative of

f(t)
l(t) = 1o/( lopt + 1)
Testers can predict the drop-off of errors as testing progresses

Actual error intensity can be plotted against the predicted curve

If the actual data gathered during testing and the logarithmic Poisson execution time model are reasonably close to one another over a number of data points, the model can be used to predict total testing time required to achieve an acceptably low failure intensity
Strategic Testing Issues
Specify product requirements in a quantifiable manner before testing starts.

Specify testing objectives explicitly.

Identify the user classes of the software and develop a profile for each.

Develop a test plan that emphasizes rapid cycle testing.

Build robust software that is designed to test itself (e.g. uses anitbugging).

Use effective formal reviews as a filter prior to testing.

Conduct formal technical reviews to assess the test strategy and test cases.
Unit Testing
Focuses verification effort on the smallest unit of software design—the software component or module
Black box and white box testing.

Module interfaces are tested for proper information flow.

Local data are examined to ensure that integrity is maintained.

Boundary conditions are tested.

Basis path testing should be used.

All error handling paths should be tested.

Drivers and/or stubs need to be developed to test incomplete software.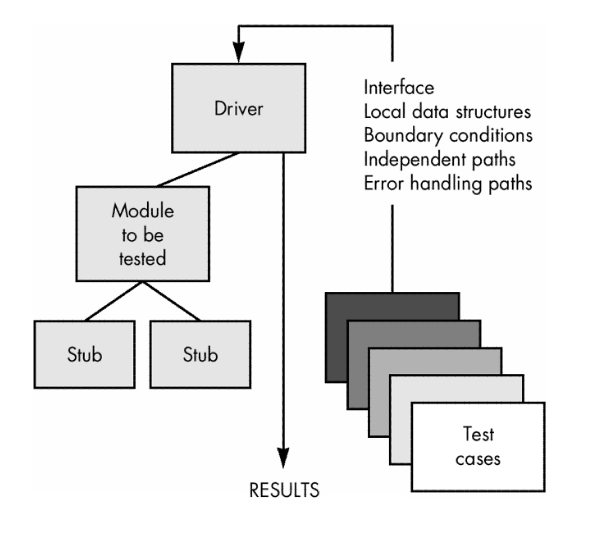 (1) misunderstood or incorrect arithmetic precedence
(2) mixed mode operations
(3) incorrect initialization
(4) precision inaccuracy
(5) incorrect symbolic representation of an expression
(1)comparison of different data types
(2) incorrect logical operators or precedence
(3) expectation of equality when precision error makes equality unlikely
(4) incorrect comparison of variables
(5) improper or nonexistent loop termination
(6) failure to exit when divergent iteration is encountered
(7) improperly modified loop variables
<![if !supportEmptyParas]> <![endif]>
Integration Testing
Depth-first

integration would integrate all components on a major control path of the structure

Breadth-first

integration incorporates all components directly subordinate at each level, moving across the structure horizontally
<![if !supportLists]>1. <![endif]>Main control module used as a test driver and stubs are substitutes for components directly subordinate to it.
<![if !supportLists]>2. <![endif]>Subordinate stubs are replaced one at a time with real components (following the depth-first or breadth-first approach).
<![if !supportLists]>3. <![endif]>Tests are conducted as each component is integrated.
<![if !supportLists]>4. <![endif]>On completion of each set of tests and other stub is replaced with a real component.
<![if !supportLists]>5. <![endif]>Regression testing may be used to ensure that new errors not introduced.
<![if !supportEmptyParas]> <![endif]>
Bottom-up integration testing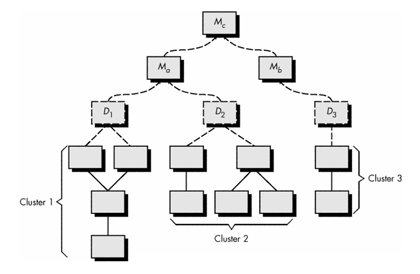 <![if !supportLists]>0. <![endif]>Low level components are combined in clusters that perform a specific software function.
<![if !supportLists]>1. <![endif]>A driver (control program) is written to coordinate test case input and output.
<![if !supportLists]>2. <![endif]>The cluster is tested.
<![if !supportLists]>3. <![endif]>Drivers are removed and clusters are combined moving upward in the program structure.
<![if !supportEmptyParas]> <![endif]>
<![if !supportLists]>0. <![endif]>Representative sample of existing test cases is used to exercise all software functions.
<![if !supportLists]>1. <![endif]>Additional test cases focusing software functions likely to be affected by the change.
<![if !supportLists]>2. <![endif]>Tests cases that focus on the changed software components.
<![if !supportEmptyParas]> <![endif]>
Conducted Daily

Benefits:

Integration risk is minimized

Quality of the end-product is improved

Error diagnosis and correction are simplified

Progress is easier to assess
With each passing day, more of the software has been integrated and more has been demonstrated to work
<![if !supportLists]>1. <![endif]>Software components already translated into code are integrated into a build.
<![if !supportLists]>2. <![endif]>A series of tests designed to expose errors that will keep the build from performing its functions are created.
<![if !supportLists]>3. <![endif]>The build is integrated with the other builds and the entire product is smoke tested daily (either top-down or bottom integration may be used).
Integration Test Documentation
Test Specification - overall plan for integration of the software and a description of specific tests

Contains:

test plan

test procedure

schedule for integration, the development of overhead software

test environment and resources are described

records a history of actual test results, problems, or peculiarities

Becomes part of the software configuration

Testing is divided into phases and builds that address specific functional and behavioral characteristics of the software

General Software Test Criteria

Interface integrity

(internal and external module interfaces are tested as each module or cluster is added to the software)

Functional validity

(test to uncover functional defects in the software)

Information content

(test for errors in local or global data structures)

Performance

(verify specified performance bounds are tested)
Object-Oriented Testing