Biography of Fats Navarro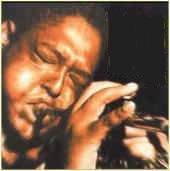 ---
Early Background
The story begins in Key West, Florida where Theodore "Fats" Navarro was born of mixed Cuban-Black-Chinese parentage on September 24, 1923. His musical training began early with piano lessons at age six, but he did not start taking music seriously until he took up the trumpet at age thirteen. He became well grounded in the fundamentals of music during his high school years. He also studied tenor saxophone and played briefly with Walter Johnson's band in Miami.

Apparently Fats did not care much for Key West. He was once quoted as saying "I didn't like Key West at all. I'll never go back." So, after graduating high school, he joined Sol Allbrights's band in Orlando, traveled with him to Cincinnati, took further trumpet lessons from an Ohio teacher, and soon went on the road with Snookum Russell's Indianapolis-based orchestra.


Navarro at age one;
already a distinct presence
The Big Band Years
Russell's group, a well regarded "territorial" band in the 1940s, proved to be a valuable training ground for Fats. It was a place to development, experiment, and make mistakes that no one would remember before heading on to the national stage. Such stars an J.J. Johnson and Ray Brown had paid their dues there. Fats stayed with Russell for about two years (1941-42) and became its feature trumpet soloist. At that time, his style was strongly influenced by the great Roy Eldridge and his (Fats') third cousin, the wonderful trumpet stylist Charlie Shavers. He was yet to hear and incorporate Dizzy Gillespie's and Charlie Parker's message. There is no recorded evidence of his work with Russell.

His next stop was with Andy Kirk and his Kansas City-based "Clouds of Joy." Here he met and forged a lasting friendship with trumpeter Howard McGhee. Maggie, as he was known, was a few years older than Fats and was an important influence in his development. Unfortunately, there is very little recorded evidence of his work with the Kirk band due mainly to a musicians strike against the record companies. What recordings that do exist do not feature many Fats solos, and due to the similarity in their styles at the time, it is hard to tell who is soloing at various points (see Session 1-3 and 8 of the discography). There is no doubt, however, that McGhee was the feature trumpet soloist with the band.

His secondary role in the Andy Kirk band explains the much quoted story recounted by Billy Eckstine describing how Fats moved over to his band.
Dizzy Gillespie left my band in Washington, D.C. He told me to go over to hear Andy Kirk, because there was a fellow with Kirk named Fats Navarro. 'Take a listen to him,' said Dizzy, 'he's wonderful!' So I went out to the club, and the only thing Fats had to blow (because Howard McGhee was the feature trumpet player) was behind a chorus number. But he was wailing behind this number, and I said to myself, 'This is good enough; this'll fit.' So I got Fats to come by and talk it over, and about two weeks after that he took Dizzy's chair, and take it from me, he came right in ... Great as Diz is ... Fats played his book and you would hardly know that Diz had left the band. 'Fat Girl' played Dizzy's solos, not note for note, but his ideas on Dizzy's parts and the feeling was the same and there was just as much swing.
The fact that Fats accepted Eckstine's invitation is easily explained; Eckstine's band was both commercially successful, due mainly to "Mr. B's" romantic vocals, and perhaps the most musically advanced. Besides Charlie Parker and Dizzy Gillespie, the band included at one time or other during a brief four year span a lineup of future stars that is unprecedented in all of jazz: Kenny Dorham, Miles Davis, Dexter Gordon, Wardell Gray, Gene Ammons, Lucky Thompson, Bud Johnson, Frank Wess, Charlie Rouse, Sonny Stitt, Leo Parker, Cecil Payne, Tadd Dameron, Jerry Valentine, Tommy Potter, Art Blakey, and Sarah Vaughan were some of the more notable to pass through the band.
Unfortunately, few of the recordings give any impression of this. The record companies were mainly interested in the commercial potential of Eckstine's rather conventional ballads. There are only a handful of examples of Navarro's work with the band on the many recordings that were made (see Sessions 4-7 and 9,10 of the discography). After an eighteen month stay, the rigors of road travel and the lack of opportunities to play his music led Fats to left the Eckstine band and remain in New York City. Somewhere around this time, he also began to use hard drugs, which would plague him for the rest of his short life. But there would be a period of brilliance and increasing musical maturity over the next three years. It was the summer of 1946 and Fats was about to enter his most productive period. He was now twenty two years old and already a trumpet virtuoso.
The New York Scene
New York City has been a major center of jazz development through most of jazz's history, and 1940s was a particularly fertile period. Both the Harlem and 52nd Street musical scenes were a hotbed of jazz activity. Due to the economics of the big band and the change from a mainly dancing to a listening music, big band jazz gave way to the small jazz combo format consisting usually of a rhythm section of piano, bass and drums, and from one to three "front line" feature soloists. (There were a few notable exceptions such as Duke Ellington, Count Basie, Woody Herman, Lionel Hampton, and Stan Kenton, but for the most part the big band era was over.)

Navarro in 1947 during
first Blue Note Session
The small combo format was ideal for Fats. He was able to give full expression to his ideas and soon developed a reputation as a major force on modern trumpet rivaling that of Dizzy Gillespie. As a result, he was much sought after for recording dates as a feature sideman by such jazz greats as Kenny Clarke (Session 11 and 12), Dexter Gordon (Session 25), Coleman Hawkins (Sessions 14 and 24), Benny Goodman (Session 34), Bud Powell (Session 45), and particularly, Tadd Dameron (Sessions 20, 35, and 43). He also appeared as a feature soloist on many "all-star" or "dream band" engagements, including a JATP concert at Carnegie Hall.
Lesser known artists could gain instant credibility for their recording dates by including him. He recorded under his own name on several occasions as well. Altogether he appears on about 150 sides during this period that have unequivocally established his place in the history of the music. Regardless of the musical surroundings, he invariably recorded well.

A critical listening of his recorded work seems to reveal that he was at his peak in the fall of 1947. He no doubt would have continued making remarkable recordings in the winter and spring of 1948 had it not been for a musicians strike against the record companies, which lasted nine months. So, despite uncertain health and stamina, he once again was on the road in the Spring of 1948 with the Lionel Hampton Band (Sessions 26-31) before settling down again in New York City as a semi-permanent member of the Tadd Dameron group.


Navarro in 1948

Navarro in 1948 flanked by
Wardell Gray and Allen Eager
His association with Dameron was probably the most productive musically. They seemed to be in sympathy with one another. The Dameron influence brought a more lyrical feeling to his playing to go along with his breathtaking technical facility and his high note ability which he used sparingly but with great effect.

Navarro was the feature soloist with Tadd's group, which also included at various times Wardell Gray, Allen Eagar, J.J. Johnson, Ernie Henry, Milt Jackson, Curley Russell, Nelson Boyd, and Kenny Clarke. The group gigged mostly around New York City and was often at the Royal Roost.
Navarro achieved considerable popularity with the jazz public and was highly admired by both critics and fellow musicians. He also was a Metronome jazz poll winner for 1948 which led to an appearance on a Metronome All Stars recording date (Session 42). It would have been a natural step for him to form his own group, but he showed no inclination to do so. Perhaps the need to have a steady paycheck to support his drug habit was a determining factor.

Navarro and Howard McGhee
during "Double Talk" session.
Milt Jackson is to the right.
The End Comes
Somewhere along the way, Fats contracted tuberculosis, which is usually a slow developing malady. The combination of his drug habit, the TB, and a less than robust constitution led to a sharp decline in his health and a curtailing of his musical activity over the last seventeen months of his life. He nevertheless went on the road one last time with the Jazz at the Philharmonic tour for about seven weeks in February and March of 1949 (see Session 44).

Navarro with Miles Davis and Kai
Winding, early 1949 at the Clique in NYC
He had only two studio recording dates in 1949, one in August on a Bud Powell date (Session 45) and one a month later with the little known tenor saxophonist, Don Lanphere (Session 46). He plays beautifully on both, but without the usual power and range. In fact, as far back as January you can hear him struggling to hit a high note on Casbah (Session 43) which would have been child's play a couple of years earlier. Perhaps as a way of compensating for his diminished physical condition, his play seemed to become more intricate. He utilized more double time passages than on past recordings, but always within the musical context.
The last recordings are a bit of an enigma (Sessions 47-51). These were private records done live at Birdland that featured Charlie Parker and Bud Powell. Fats holds his own throughout, while playing several long and interesting solos. His exciting solo on The Street Beat is his longest on record. The dates of Spring of 1950 given for these performances, however, are hard to reconcile with the poor condition of his health. He has been described as coughing uncontrollably and appearing physically emaciated during this period, which does not jibe with the high quality of his play. In the long run, it does not matter.

Navarro at the Camero Room of the
Mercantile Hall in Philadelphia, 1949
Theodore "Fats" Navarro died on July 6, 1950 in a New York City hospital. He was survived by his wife, Rena (nee Clark) (1927-1975), a daughter, Linda (1949- ), and thousands of jazz lovers around the world.