A Day To Remember
---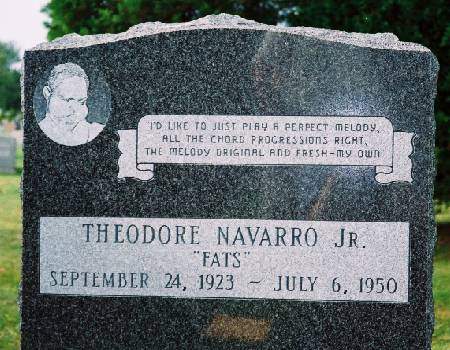 Thanks to the contributions and support of many, many people, daughter Linda Navarro and this Web page are glad to report that Fats' gravesite is no longer unmarked. The Headstone Dedication Ceremony took place before about fifty people on September 24, 2002 at Rosehill Cemetery (Section 28, Plot 411) in Linden, NJ. Mayor John Gregorio proclaimed the day as "Fats Navarro Day" in Linden, and the Jazz Alliance International sponsored a reception following the dedication at Amici's Restaurant in Linden. The day concluded with an evening Fats Navarro Tribute concert before a full house at the Jazz Standard in Manhattan. A report on the day follows.
---
Fifty-two years ago Theodore "Fats" Navarro died in New York at the age of 26 of tuberculosis and heroin addiction. Andy Kirk, in whose Clouds of Joy Orchestra Navarro had played in 1943 and 1944, paid for the funeral expenses and asked the funeral director to choose the burial ground. It was the Rosehill Cemetery in Linden, N.J.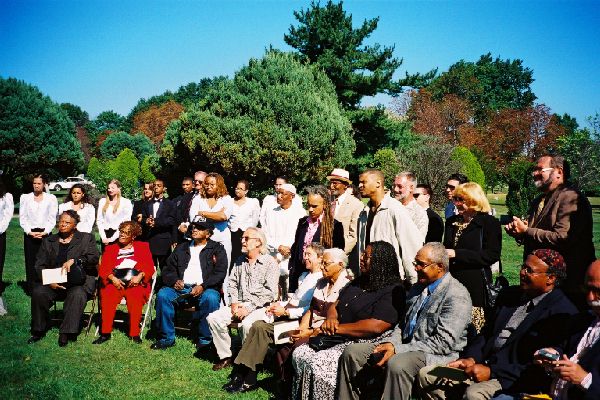 Forty-seven years later Professor Stuart A. Varden of Pace University, School of Computer Science and Information Systems, finding Internet information about his favorite trumpeter inadequate, created a Web site to honor him and his contribution to jazz. In seeking to photograph Navarro's headstone for posting on the Web site, he discovered that his grave was unmarked. On his Web site he talked of erecting a headstone and received an email from Fats' daughter, Linda Navarro, in Seattle. The campaign gathered momentum. Theo Rehak, a distant cousin of the late trombonist Frank Rehak and a Navarro scholar, joined in the effort. Rehak, who since 1966 has collected images of Fats in what he calls L'Archive Navarro, is currently collaborating on a Navarro biography with Danish trumpeter/scholar Leif Bo Petersen.
From five countries, 26 contributors donated amounts ranging from $5 to $500. Over $3,100 was raised. Earlier this year Maxine Gordon, widow of tenor sax great Dexter Gordon who had played with Navarro, called Bruce Lundvall, President of Blue Note Records and Board Chairman of Jazz Alliance International, for help with the project. JAI's response was to establish a Fats Navarro Scholarship and also become involved with the headstone ceremony. Linda Navarro was flown in from Seattle and other Navarro family members came up from Florida (Fats' birthplace) and Georgia for the occasion. About 50 were in attendance at the gravesite, including people from as far away as Los Angeles and Denmark. The event was blessed with a beautiful early fall day with temperatures in the 70s.
On the morning of September 24 (the 79th anniversary of Navarro's birth) JAI President Chuck Iwanusa presided over an impressive dedication that included remarks from Varden, Rehak, Gerry Lorenzetti, Supervisor of Music at Linden High School, Navarro's sister, Elizabeth Carr, trumpet greats Donald Byrd and Jon Faddis, and writer/critic Ira Gitler. Faddis also played the melody chorus of Navarro's "Nostalgia"; and the Linden High School Madrigal Singers sang "Amazing Grace." Among the attendees was JAI Board Member and President of Concord Records, Glen Barros, a native of Linden who had both studied and taught music at the high school.

The handsome headstone has a portrait of Navarro in the upper left hand corner and, over his birth and death dates, an inscription that replicates a statement he made to Barry Ulanov in an interview for Metronome in 1947: "I'd like to play a perfect melody of my own, all the chord progressions right, the melody original and fresh-my own."


Writer/critic Ira Gitler flanked by Navarro biographers Theo Rehak (left) and Leif Bo Petersen (right).
The purpose of the Fats Navarro Scholarship is to assist Cuban music students, recognizing the exceptional young talent coming out of Cuba and paying tribute to Fats' Cuban heritage. (Navarro's background was African, Cuban and Chinese.) Scholarship students will attend the summer jazz programs of the Manhattan School of Music and Skidmore College. Iwanusa said, "Through the scholarship initiative, we hope to provide a living tribute to one of the legendary contributors to our national American treasure." (For more information on the scholarship, see the JAI's Web site, www.jazzai.org.)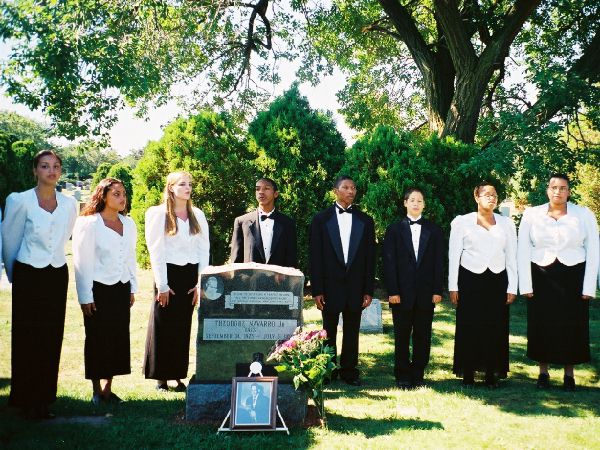 Linden High School Madrigal Singers perform "Amazing Grace."
The gravesite dedication ceremony was followed by a Jazz Alliance International-sponsored reception at Amici's Restaurant in Linden. In conjunction with the day, was a multimedia jazz education program entitled Stolen Moments: The First 100 Years of Jazz held at Linden High School and sponsored by the JazzReach Performing Arts & Education Association. The program featured a video presentation, an historical narrative, and live musical performances illustrating the major periods in jazz.
On the evening of the 24th at New York's Jazz Standard 14 trumpeters gathered to pay homage to Navarro and help benefit the scholarship fund. Backed by an artistic, rhythmic workforce of pianist James Williams, bassist Peter Washington and drummer Billy Drummond, this brass phalanx, divided for the most part into units of four, played with energy, joy, friendly competition and the feeling of an old-time jam session, jumping off from Don Sickler's arrangements of Navarro originals.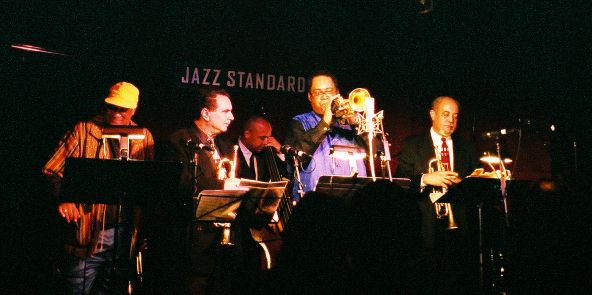 Jon Faddis solos on "Ice Freezes Red."
It began with Jon Faddis (artistic director for the event and a tower of strength throughout), Cecil Bridgewater, Claudio Roditi and Jimmy Owens (all with cup mutes-Fats' preferred bell-stopper) in "Ice Freezes Red," Navarro's take on "Indiana." For the solos everyone was open except Bridgewater who blew into a Harmon for two choruses with only Washington backing him.
Next up were Tom Harrell, Brian Lynch, Jeremy Pelt and Sickler with "Barry's Bop," based on "What Is This Thing Called Love?" Lynch's solo was notable for its continuity and daring.
Set three had newcomer Sean Jones, Lew Soloff, Bridgewater and Jim Rotondi. Navarro's lovely "Out Of Nowhere"-inspired "Nostalgia" found Soloff contrasting sustained high notes and skittering phrases with unadorned lyricism while Rotondi achieved a feeling closest to Fats.
For "Fat Boy," it was Jones, Pelt, Sickler, Lynch and, on flugelhorn, Clark Terry. Clark set some kicking riffs behind Jones on this blues and there were exchanges among all the horns that began with full 12-bar choruses and worked their way down (while upping the temperature) to eights, fours and twos.
During the break there was much happy mingling in the sold-out house but before too long Roditi, Rotondi, Harrell and Owens were back at it. Jimmy brought his rotary-valve flugelhorn to the fore for heated trading of ideas with Claudio on the "Lady Be Good"-based "Fats Blows."
Roditi, Pelt, Lynch and Rotondi combined for "Eb-Pob" ("I Got Rhythm" changes), further charged by Randy Brecker, freshly arrived from a Siberian tour. "Boperation," with its gymnastic bridge challenged Owens, Harrell, Faddis, Soloff, Bridgewater and Sickler. They rose to the task and exhilarated the audience with skeins of fours that flew back and forth across the stage as they looped from the bells of the trumpets.
Finally, Roditi, Lynch, Bridgewater, Soloff, Owens, Sickler, Harrell. Brecker. Jones, Pelt and added starter Mondre Moffit (some on stage and others nearby) took the evening's music to a roaring conclusion with (the "Rhythm" with a "Honeysuckle Rose" bridge) "Fat Girl." The two young middle-linebackers, Pelt and Jones, filled up two choruses with short exchanges and simultaneous lines.
From 11:30 am to 10:30 pm it was a beautifully realized day that made one proud to be part of the jazz tradition and another reminder that the music of the greats lives on well beyond their passing. Fats Navarro has remained an inspiration on his own, through the countless trumpeters influenced by his main disciple Clifford Brown and will continue through the students who will study in the scholarship program that bears his name.
---
Note: This report is an adaptation of Ira Gilter's article on the day that appeared on the JazzTimes Magazine Website, www.jazztimes.com. The photos were taken by Professor Varden. For further information, see "Dedicated to Fats."Down Beat (December, 2002): 18.