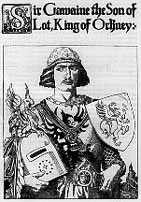 Sir Gawain, King Arthur's nephew, is said to be one of the most loyal, faithful, courageous, and handsome knights of the Round Table (the other being Lancelot). This young man appears in many King Arthur legends. In this particular tale, Gawain is the youngest knight in the court and has never fought in a battle before.
In other tales, such as "The Wedding of Sir Gawain and Dame Ragnell," the knight is also portrayed as a hero, who saves the life of King Arthur by sacrificing his own happiness and marrying an old, ugly hag. Nevertheless, this tale has a very happy ending.
(Click on the helmet, chest (armor), or the sword to go to links with other pictures of weapons and armor)
This might be how Sir Gawain looked when he went in search of the Green Knight. He is dressed in his armor and has only his horse, Gringolet,with him. Like Beowulf, another hero/super human, Gawain has fought many wild animals and supernatural creatures by himself:
Now with serpents he wars, now with savage wolves,
Now with wild men of the woods, that watched from the rocks,
Both with bulls and with bears, and with boars besides,
And giants that came gibbering from the jagged steeps (721-724).
However, at the end of the poem we find out that this brave knight is afraid of death, just like the majority of us normal, ordinary people. So what is the true meaning of a hero? Is there a real hero in this society? Who really deserves the shield with the pentagle?