Joseph Bergin, Ph.D.
Professor of Computer Science
---
Education
Ph. D. 1972, Michigan State University. Mathematics. Specialty in Classical Real Analysis. "A New Characterization of Cesaro-Perron Integrals Using Peano Derivates."
M.A. 1968, Kansas University. Mathematics. "On the Reflection Laws of Elliptic Differential Equations." NDEA fellow.
B.A. 1965, Loyola University of Los Angeles. (Now Loyola-Marymount University) Major in Mathematics, Minor in Philosophy.
Previous Teaching Positions
1989- Present. Tenured, Full Professor of Computer Science at Pace University, New York City.
1986-88. Professor of Information Systems at Marist College, Poughkeepsie, New York.
1974-86. Professor of Mathematics and Computer Information Systems. Thomas College, Waterville Maine.
1985 Visiting Professor of Computer Science at Dartmouth College.
1972-74 Instructor in Mathematics. Eastern Michigan University, Ypsilanti, Michigan.
Awards
Research Award from School of CSIS, 1998
Service Award from School of CSIS, 2000
University Distinguished Faculty Service Award, 2001 (For work on the DPS degree design-joint award)
Shepherding Award at EuroPLoP 2001 (For aiding others in the Patterns Community)
Elected to Pi Mu Epsilon, Sigma Xi, Alpha Sigma Nu, and Upsilon Pi Epsilon (Honary societies)
Research Interests
I am interested in languages, especially object-oriented languages, patterns, and Extreme Programming.. I am also interested in how students learn. Much of my work involves providing materials for use by those striving to become professionals in computer science.
Other Interests
I am an avid bicyclist and hiker. I also am a great lover of ethnic foods and exotic cultures. Pace University is wonderful because of the rich diversity of its students and its placement in vibrant Manhattan, between Chinatown, Wall Street, and the South Street Seaport.
Personal Website
My personal web site is at http://ulster.net/~berginj.
---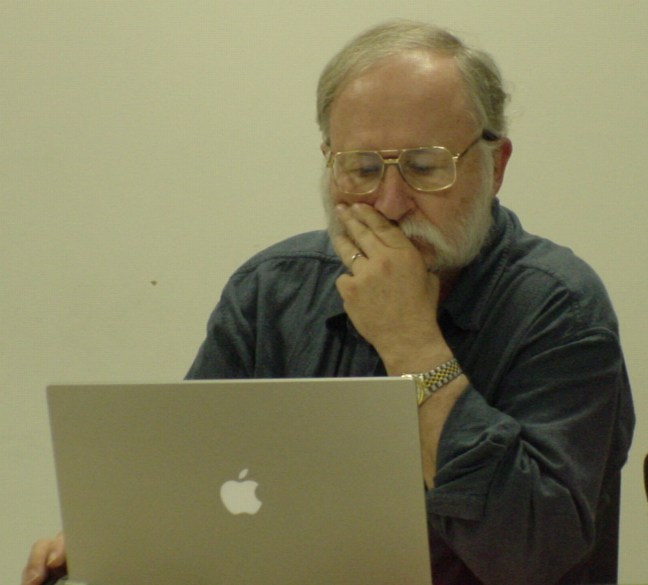 ---
The two unbelievably handsome people below are Ricardo Jimenez-Peris of Universidad Politecnica de Madrid, and myself. The picture was taken in Barcelona in 1996. We were attending ITiCSE '96.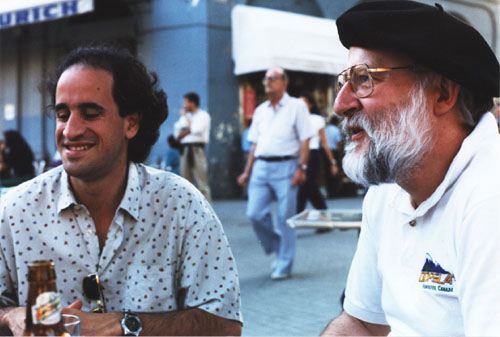 ---
With Al Rossi and Anna Armentrout (students) at ITiCSE '99 in Krakow.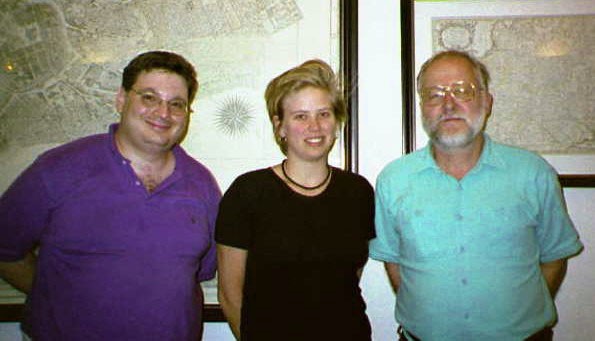 Al and Anna were in Krakow to present their Master's degree research at ITiCSE. Both have now finished their degrees.
---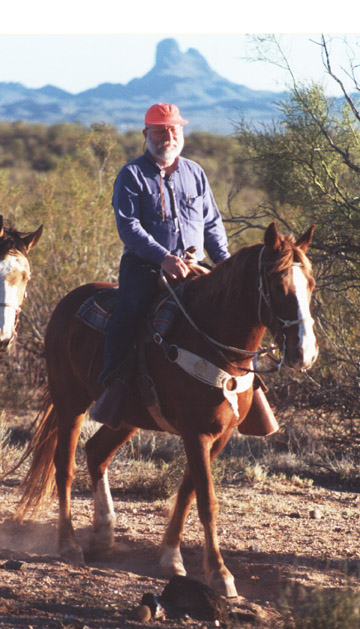 Studying the horseback riding patterns at ChiliPLoP 2000.
---
In the Summer of 2001 I was awarded the Neil Harrison Shepherding Award at EuroPLoP 2001. Here I am shown with the official shepherd's staff. Neil is just to my right. Thanks to Amir Raveh for the photos.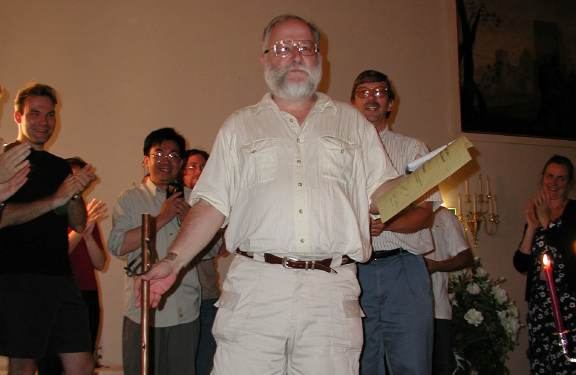 Here I'm being congratulated by Frank Buschmann.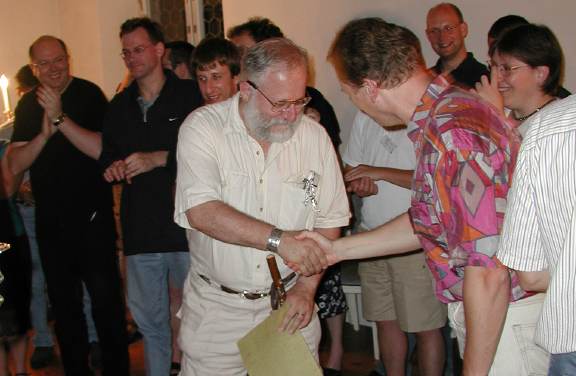 ---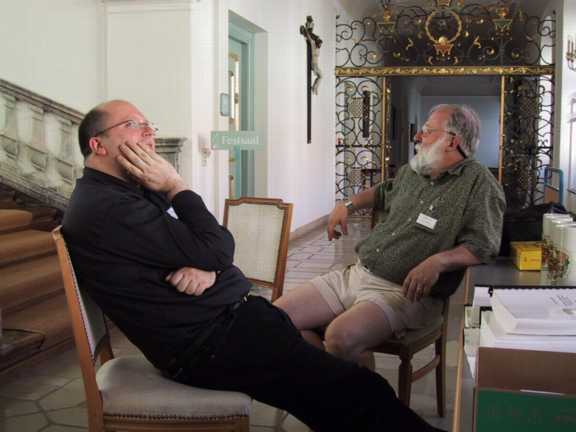 Professors O'Callahan and Bergin at Kloster Irsee--EuroPLoP 2001. Are we
a) Thinking deep thoughts
b) Saving the world
c) Waiting for the pub to open?
---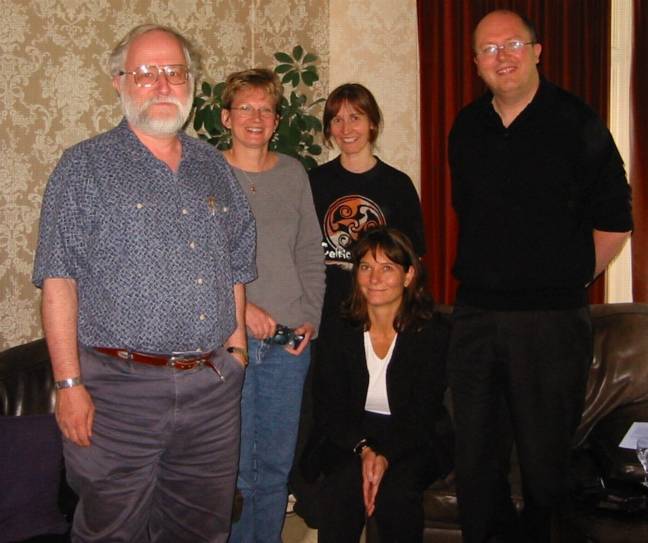 Five of the people involved in the Pedagogical Patterns community. Joseph Bergin, Mary Lynn Manns, Helen Sharp, Jutta Eckstein (sitting), and Alan O'Callaghan. Mary Lynn had earned her doctorate the day before. We were meeting at Helen's both as a celebration and to plan for the next actions in pedagogical patterns.
---
Last Updated: December 28, 2002