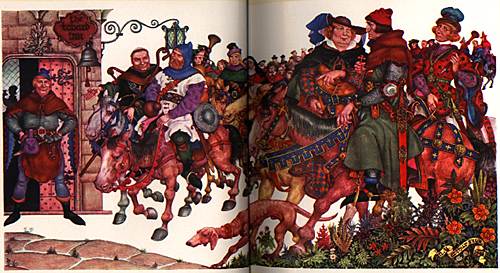 ---
---
The Canterbury Tales written by Geoffrey Chaucer is one of the greatest works in English of the late fourteenth century. He was an outstanding English poet and began to work on The Canterbury Tales in about 1387. He describes a pilgrimage of 30 people, who are going to the shrine of Saint Thomas Becket at Canterbury Cathedral. The poet joins the pilgrims, vividly described in the "General Prologue," who gather at the Tabard Inn outside London for the journey to Canterbury. On their route to Canterbury they tell stories to amuse themselves. Each pilgrim tells the others stories about greed, jealousy, and tricksters, among other subjects. The Canterbury Tales reflects medieval society: there are feudal, urban, ecclesiastical, and middle-class characters such as a cook, carpenter, miller, priest, monk, prioress, pardoner, lawyer, merchant, clerk, and physician.
One of Chaucer's characters, the Wife of Bath describes her reaction to the patriarchal society; she most grabbed my attention. As we can see in the description of her life, marriage is the most important issue to her. She wears fine scarlet red stockings and kerchiefs that weigh ten pounds on her head. She has been married five times and is now seeking her sixth husband. Chaucer describes her as a great weaver. She strongly desires controling over her marriages, presumably because of her lack of control in the financial arena. The Wife of Bath needs a lot of attention since she thinks she is a God's gift for men.
To learn more about the Wife of Bath, click on one of the links.
WORKS CITED



Another interesting links

Life of Chaucer Text of Wife of Bath in Modern English

BACK TO TOP
BACK TO MAIN PAGE